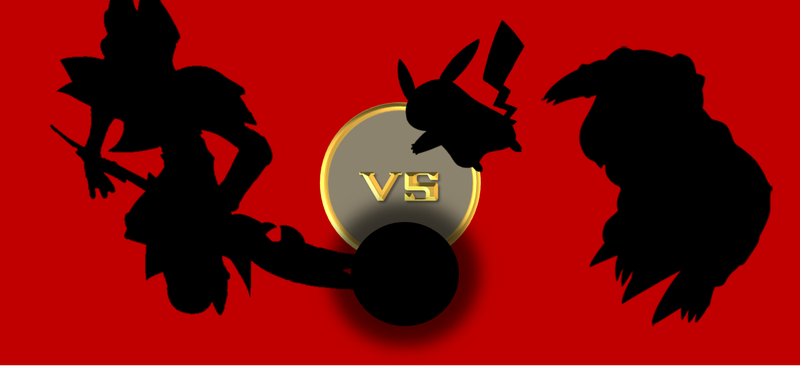 For children of the 90s and the early 00s, these three franchises were big and were inescapable during their heights. All three are still popular now of course, but not to the same scale.
I mentioned before about my old Pokémon teams, but I was also a fan of Digimon and Yu-Gi-Oh as well, loving the Digimon anime and being a collector of the cards (Buster Blader was my favourite).
One thing me and my friends loved doing was fantasizing which monsters from each franchise could beat each other. Given we still have a bit of March Madness in front of us, let us see which ones would win in a all-star rumble.
1. Charizard vs. Metalgreymon vs. Blue Eyes White Dragon
All three are very similar. All are giant lizards, all have projectiles and all of them are associated with their series respective protagonists with Ash/Red owning a Charizard, Metalgreymon being the evolved partner of Tai and the Blue Eyes being Yugi's Grandpas super special awesome chocolatey fudge coated super card.
But they also use to be special, titans of their respected series before being surpassed by stronger, more powerful monsters. Charizard was one of the strongest monsters before stealth rock. Metalgreymon was the ultimate prize, the most powerful monster you could raise, before mega levels were introduced. Finally, the Blue Eyes White Dragon was the most powerful monster card in the game, before summons, fusions and Gods were introduced.
Abilities
Charizard: Fire breath, flight and solar power
MetalGreymon: Chrome digizoid armour, missile, trident claw, flight
Blue Eyes White Dragon: Light, hard dragon scales, fires blue flame and is oddly coloured blue in the anime despite being clearly called white.
Personal Outcome
Charizard would fly as high as possible and fire balls as Blue Eyes and MetalGreymon duke it out. Though MetalGreymon is a worthy opponent, he cannot breach Blue Eye's scales and is defeated when Blue Eyes burns his fleshy part. Charizard aims for Blue eyes weakest area, his eyes and blinds it, putting the dragon into a maddening fury. With great speed, Charizard is able to make Blue Eyes knock himself out, winning the battle.
2. Alakazam vs. Piedmon vs. Jinzo
Master psychics of their respected series and are capable of great power and destruction in the right hands. Jounouchi owned a Jinzo after winning it while Blue/Gary usually is shown owning an Alakazam. As for Piedmon, he was depicted as one of the final enemies of the Digidestined in Digimon Adventure.
Abilities
Alakazam: Psychic blasts, paralyse, confuse, kinesis and teleport.
Piedmon: Swordsman, teleport, float, summoner, turn people into dolls
Jinzo: Negates special abilities, psychic blasts.
Personal Outcome
The fight starts, only for Piedmon and Alakazam to realize they can't use any of their abilities due to Jinzo. Making a temporary alliance, the two attack Jinzo, only for Jinzo to vaporize Alakazam. Piedmon is able to impale Jinzo, but he is also vaporized.
3. Gengar vs. Devimon vs. Thousand-Eyes Restrict
It's a good day to be a demon. Gengar, the trickster and king of the ghost-type Pokémon. Devimon, an evil that rules File Island with his black gears and Thousand-Eyes Restrict, a monster so powerful that it is actually banned.
Abilities
Gengar: Can control shadows, levitate, Hypnosis and curse
Devimon: Flight, Bat-Ray, controls gears, stretch
Thousand-Eyes Restrict: hypnosis, paralyse, float, devours souls.
Personal Outcome
Both Gengar and Thousand-Eyes both try to hypnotise Devimon, making him brain dead. Gengar hides in the shadows as the match turns into a battle of wills. Gengar uses a curse on Thousand-Eyes which slowly drains its power. However, Thousand-Eyes paralyses Gengar and its final moments, steals Gengar's soul.
4. Eevee vs. Patamon vs. Kuriboh
Cuteness, all of them have it and all of them use it as a weapon. They also all have stronger forms:
Eevee, though a normal-type, can evolve into any number of elemental versions of himself, Patamon can become an Arch Angel and Kuriboh can grow wings.
Abilities
Eevee: Running, headbutts and cuteness
Patamon: Bubbles and flight
Kuriboh:
Personal Outcome
Kuriboh multiplies itself while Eevee and Patamon attack them. They eventually find the original and defeat it. The two fight each other, but Eevee cannot reach him. Patamon eventually knocks Eevee out with a constant barrage of bubbles, winning the match.
5. Mewtwo vs. Omegamon vs. Exodia: The Forbidden One
All three are power houses of their series. Mewtwo was the results of eugenics, Omegamon is the fusion of two powerful warriors and Exodia is the reincarnated form of Osiris, god of the afterlife.
Abilities
Mewtwo: Levitate, super intelligence, psychic blasts, arm to arm combat expert
Omegamon: missiles, cannon, sword and shield
Exodia: Instantly wins any match
Personal Outcome
Exodia obliterates Mewtwo and Omegamon, winning the battle.
6. Celebi vs. Time Wizard vs. Calumon
Time is a magical and cruel thing. We are always its victim, its prey. But not for these three.
Time Wizard, Calumon and Celebi are capable of time manipulation. But which one is better?
Abilities
They all have time manipulation, flight and teleportation
Personal Outcome
Time Wizard tries to kill the others by aging them to death. It works on Calumon, but Celebi is able to escape in time. Celebi uses hidden power which results in Time Wizard exploding, winning the match.
7. Blaziken vs. Flamedramon vs. Elemental Hero Neos
Fighters, ready to get themselves dirty in close combat. Blaziken, fully evolved starter, a fan-favourite and has many copycats. Flamedramon, an armour levelled digimon and one of the most powerful. Neos, one of Jaden's trademark cards and can fuse to gain more power.
Abilities
Blaziken: Superspeed, fire attacks and combat expert
Flamedramon: Digizoid armour, fire blast, metal claws
Neos: expert fighter, super strength and capable of fusion
Personal Outcome
The battle is long and bloody, with none of the opponents willing to give up. The surroundings are set ablaze and the ground shakes due to the sheer force of the impact of the punches. Neos is the first to drop, just too injured to go on. In one final desperate punch, Blaziken is able to crack Fladedramon's armour and knocks him, winning the battle.
8. Gardevoir vs. Angewomon vs. Dark Magician Girl
These three are considered experts in their fields and are incredibly popular with fans. Gardevoir is a magical knight and is an expert in psychic attacks. Angewomon is an expert archer and a powerful angel. Finally there is the Dark Magician Girl, a trained mage, an expert of necromancy and the most sadistic monster in the game. They also represent the classic three types of mages in fiction with Angewomon being the White Mage, Dark Magican Girl the Black Mage and Gardevoir the Red Mage.
Abilities
Gardevoir: telepathy, swordsman, psychic, precognition and floating
Angewomon: Archer, flight and fighter
Dark Magician Girl: Force blasts, Necromancy and foul language
Personal Outcome
A massive brawl begins! The Magician spends forth her army of zombies which Angewomon takes out easily. Gardevoir uses her psychic attacks, but they do little to the others. Dark Magician and Angewomon duke it out, with no clear winner in site. Gardevoir, in frustration causes a leaf tornado which scars the two. Finally, the three cause a nuclear sized explosion of magic which only Angewomon is able to escape from, winning the battle.
9. Arceus vs. Seraphimon vs. Winged Dragon of Ra
It's a battle of the gods. All are legends, all are gods and all are rare to achieve/find.
Abilities
Arceus: Shaping reality, flight, every attack possible
Seraphimon: Holy armor, flight and master of all weapons
Winged Dragon of Ra: ????
Personal Outcome
While the Winged Dragon of Ra just sits there and looks intimidating, Seraphimon and Arceus duke it out. Their fight causes reality to begin to collapse, with entire worlds ceasing to exist.
Though Seraphimon was a worthy foe, his angel like powers are no match for the legend of legends and is defeated. However, Arceus heals his wounds and bows to Seraphimon spirit, willing to train him. All the while Ra still just stands looking intimidating.
10. Pikachu vs. Agumon vs. Dark Magician
Finally, we have the mascots of each franchise. The ones that appear on the most merchandise and get the most screen time.
First there is Pikachu, a yellow mouse that became popular due to being Ash's main Pokémon in the Anime. Agumon was the first rookie available in the original virtual pet games and the Dark Magician was the trademark monster of Yugi (though interestingly, he never used it in season 0 besides the opening).
Abilities
Pikachu: Speed, Electricity, Iron tail and cuteness
Agumon: Fire blasts and claws
Dar Magician: Mage that focuses on offensive based magic
Personal Outcome
Agumon Fires at the Dark Magician which has little effect and in retaliation, fires a magic missile back. Pikachu uses an iron tail on the Dark Magician, breaking his arm, but also injuring Pikachu in the process. Agumon tackles Pikachu and begins to beat him up until Pikachu Is able to push him aside. The Dark Magician whacks Agumon in the back of the head, taking him out of the fight then barrages Pikachu with magic. In desperation, Pikachu uses lightning on the Magician which him, finishing the fight.
Results

Pokémon 5
Digmon 2
Yu-Gi-Oh 3
Pokémon Wins!
But of course, there are plenty more combinations that could be used so feel free to make your own ones in the comments.