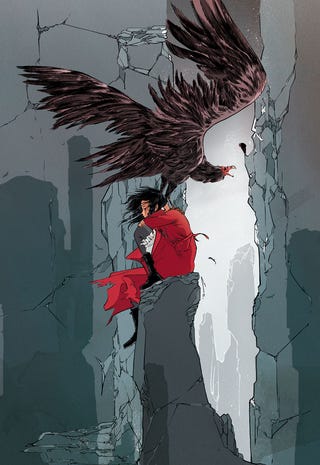 This week Pretty Deadly came out, a new comic from Image by Kelly Sue DeConnick and Emma Rios. I was really excited about the premise of the book and I've switched to mostly indie and creator owned books so it was a no-brainer pick-up for me. I really enjoyed it, it was an intriguing first issue with interesting characters and rough, beautiful art that really fit the Wild West world being created. But apparently not everyone felt that way:
http://www.bleedingcool.com/2013/10/25/ima…
Now this is an ugly situation for all involved. I've never heard of employees of comic book store destroying issues of comics they don't like. It's like something out of an episode of Big Bang Theory, which is not a compliment.
I don't think Pretty Deadly #1 is beyond reproach, I can see how someone could have a problem with the art and the story does have a lot going on with very little context. So I understand someone not liking it, but destroying a copy seems out of line. I'm good with Image's response, because you don't what the main story from what from all accounts has been a successful launch to be this bit of weirdness. I've never been in a comic shop that was not completely professional, so hearing something like this is surprising for me.
Update: Comics Ink owner has issued an apology:
http://www.bleedingcool.com/2013/10/25/own…
It tries to explain it away a bit, but for the most part seems to acknowledge that the whole episode was in poor taste regardless of what he thought of the book.