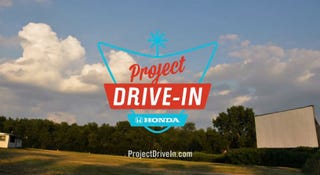 As I've posted a few days ago and earlier in the summer, 35mm film will no longer be printed next year by major studios. This means ALL theaters MUST have digital projectors to live on. Sadly, drive-ins for the most part cannot afford these upgrades.
Honda, in an actually cool idea for publicity, has set-up voting to donate digital projectors (which run in the $70,000 range) to whichever drive-ins win the online voting. Voting ended a few days ago with my local drive-in being one of the winners, but today they've extended voting to the 21st and are donating four more projectors.
If you love the drive-in then get your family and friends to vote for your local drive-in. Drive-ins who are unable to procure a digital projector by next year will be unable to show next year's movies and will have to try and survive on classics or go out of business.