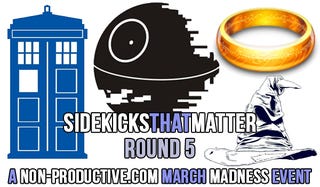 We're down to the final four characters in our #SidekicksThatMatter March Madness!
---
Game 1
Hermione Granger from The Harry Potter Series
VS.
Samwise Gamgee from The Lord of the Rings
Harry's most valuable Teammate versus Frodo's Partner at The End of All Things! Can a character be too well developed for people to consider a sidekick - can a character be written as a loyal servant and be strong enough to earn respect all their own?
---
Game 2
Obi-Wan Kenobi from Star Wars
VS.
Donna Noble from Doctor Who
Jedi Mentor to the Skywalkers versus the Doctor's Foil! Are characters forever judged harshly by their failures and shortcomings, or does their troubled history make them stronger?