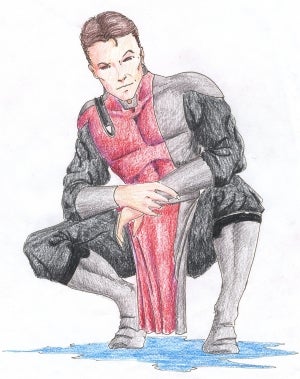 Recently, a poster asked if it was okay to plug personal projects, and the general consensus was that it's okay (as long as it's not spammy and the topic is appropriate to the forum).
So... I hereby present My Shameless Plug.
I've talked about this in the comments to other posts, but haven't really posted it as a plug. For a few years, I've been developing a project I call Trilobyte Studios. The concept is simple: Open-source entertainment.
Recently, Amazon has announced that they are allowing "official fan-fic" on established IPs. While this is a great step forward, it's still a long way from the freedom these worlds should have.
That's where Trilobyte Studios comes in. The idea is to have a repository of universes, characters, stories—and all the sundry trappings that go along with them—that is completely open for writers, designers, creators, and fans of all stripes.
Fan-fic? We call that "potential canon". Cosplay? Send us your pics so we can brag. Musical satire? Yeah... we actually have an official category for that.
These universes would not be owned by a single author. They would not be owned by a corporation. They would belong to the fans. Everything is released under a Creative Commons BY-NC-SA license. Any non-commercial use is free. And commercial uses are *very* cheap.
Most of what is currently available in the project is my own. This is simply because I haven't been talking about the project much. I would love to see universes created by others join the project.
I'm pretty sure that everyone reading the O-Deck has the qualifications needed to get involved. Basically, the only prerequisit is an interest in quality storytelling.
So... I hereby Blatantly Plug myself and invite you to join Trilobyte Studios in creating new universes. It doesn't matter what your skills are, we can use you.
(note: Because of spam issues—and my lack of technical skills to solve the problem—some of the features require a manual sign-up. Send an e-mail to Producer@[the domain] and I'll get you signed up. If anyone knows how to mitigate registration spam on Wikimedia or Wordpress, please contact me! I hate having this restriction.)