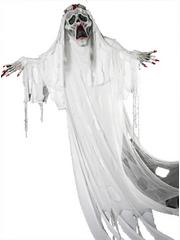 Okay, so I have been seeing these signs up for this haunted house. I've been planning to go, but for some reason I thought that they were only having it on Halloween. Turns out that they've been having it on Friday and Saturday nights all month. So I could have seen it last week or the week before, or even the week before that.
I usually do not go anywhere the night before the Halloween party, and I try to do as little as possible on Saturday before the party, except for making cookies or whatever I'm doing for the weird food. I can't let myself get too tired, and I usually have to do my hair Friday night.
And to be honest, maybe I'm just a little bit afraid of something going wrong while I'm out that will then keep me from going to the party. Twice now I've fallen in a haunted house. I get hurt. I don't like it.
I should wait til Halloween, but I'm thinking about going tomorrow for two reasons. First, I keep hoping that someone will want to do something cool (but most of the people who do stuff with me either have to work nights or don't live near me or have already said no haunted houses, etc... And the other reason I wonder if Friday night would be better is that they've said not all the people in the haunted house work every night, so I'm thinking that on actual Halloween too many of the kids will be off doing something else.
Okay, should I go to the Festival of Nightmares tomorrow night, or should I be on the safe side and stay home?