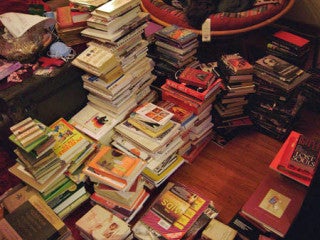 Okay, I knew I had a few of these, but now I've found two more boxes of them.
I know that I will keep a few things, cause someone taped something for me in real life or I recorded some news thing on TV, and there are a few tapes of movies and such that I'd have trouble finding on DVD, but most of it is just stuff like Star Trek or Jurassic Park.
I got some VHS tapes last year from someone else getting rid of their stuff, and I figured that I would watch it once or twice and then give it to the next person. Like, last week I passed along I, Claudius. Cause even if you're not really interested in that, you have to watch it to see the actors as you are not used to seeing them. Like, Patrick Stewart with hair, and Brian Blessed without a beard.
So I was nearly through with those, and then I found these two boxes. But most of these are not anything interesting. I'm sure I had a great time watching Chain Reaction then, but I don't really care that much for it now.
What do people do now with their VHS tapes? Give them to friends, who will then probably put them in the trash when you're not looking? At one time I took lots of them to Half Price Books, but I'm thinking that they might not want anymore, and maybe Goodwill is tired of them too.