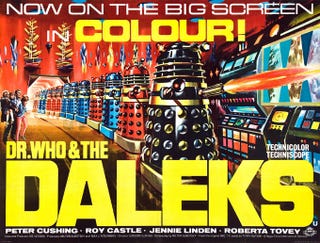 Just a heads up that this Thursday night, at least in the States, the Turner Classic Movie channel will be running a selection of movies that involve time travel. The block starts off at 8:00 EST with 1933's Berkely Square starring Leslie Howard, followed at 9:45 by the thriller Time After Time with Malcolm McDowell and David Warner, then at 11:45 La Jetee which, depending on what you read, may or may not have inspired 12 Monkeys.

At 12:30 AM is Dr. Who and the Daleks with Peter Cushing as or in the first onscreen appearance of the Jackson Lake Dr. Who (my theory and I am sticking to it), with George Pal's The Time Machine starting at 2:15. The mini marathon finishes up with 1956's World Without End screening at 4:15 AM.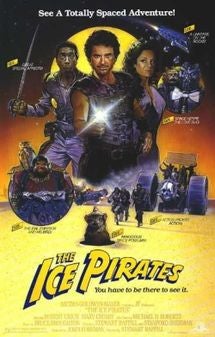 Also this Saturday night (really Sunday morning) the often at least to me great TCM Underground is showing the cult favourites Nothing Lasts Forever (1984) with Zach Galligan, Dan Aykroyd, Bill Murray, and a bunch of other familiar faces (Sam Jaffe, Mort Saul, etc.,) at 2AM followed by The Ice Pirates (!!!) with Robert Urich, Michael Roberts, and Ron Perlman plus, again, a bunch of familiar faces.