Over on Comicbook.com, Andrew Steinbeiser has an article about that sites dreamcasting for the upcoming Teen Titans tv show for which TNT has ordered a pilot. I disagree with almost all of his casting choices. I've never found myself thinking a writer has been so wrong with their picks that they must have put a bunch of names for young, up and coming actors in a hat and pulled them at random.
"But wait a minute BehindDarkGlasses", you're saying, "aren't you a self-avowed Marvel fanboy? Why do you care so much about Teen Titans which is a DC property?"
Well gentle reader, one book I loved to read growing up was The New Teen Titans (1980 - 1996/Wolfman/Perez). Then I got into and binge watched Cartoon Network's Teen Titans (2003 - 2006) cartoon. Plus Young Justice was the Teen Titans by another name and really good. I just really like the Teen Titans and I'm excited at the prospect of seeing a live action version of them on the small screen.
The one and only thing I agree with in the article is that it makes sense for TNT and DC to use the Cartoon Network's Teen Titan (2003 - 2006) cartoon line-up. As Steinbeiser notes:
For simplicity's sake, however, DC and TNT should stick with the one Titans teams that most fans know best: The Teen Titans from Cartoon Network's series that ran from 2003-2006—but with one exception. With the exception of NIghtwing, no other character would come with strings attached to another DC character or franchise, making for an accessible superhero drama that could focus on the characters who are actually on the screen.
With that being said, here are Steinbeiser's picks, why I think they are wrong for the character the actor is paired with, and who I suggest as a better pick.
NIGHTWING
HIM
Steinbeiser suggests Logan Lerman for Nightwing
Look, I liked Lerman in The Perks of Being a Wallflower. BUT, Ezra Miller's performance stole each scene he shared with Lerman but Lerman pretty much held his own. I believe I watched about 30 minutes of Percy Jackson and Lerman's performance wasn't bad either. BUT he doesn't exactly scream Nightwing for me. I don't see leadership, acrobatic skill, or a sense of...uhm...whimsy that's been tempered by having Batman be your mentor/father figure for a good chunk of your life. Let us call it Whimsy-Downer Daddy Syndrome (WDDS).
ME
---
---
I could go with someone like Harry Lloyd who certainly looks the part but I'm choosing Harry Schum Jr. Natural acrobatic talent? Check. Can emote a sense of WDDS? Check. Charisma? Check. Can rally the troops for a cause? Check.
---
RAVEN
---
HIM
Steinbeiser selected Ksenia Solo to play Raven.
I like Ksenia. She is one of the few shining lights on Lost Girl. I like her, I really do but she IS NOT Raven. Raven requires a bit more tortured soul of a half-demon mixed with Daria. To be fair, my live action characterization is based on Tara Strong's voice work and characterization for the Cartoon network's Teen Titan cartoon.
ME
---
---
Jeanne Garofalo is a bit long in the tooth. Daria is, uhm...animated. Some might suggest Aubrey Plaza which is fine, but I don't really see Plaza going from sullen ennui to righteous, powerful mystic in 2.3 seconds flat. So why not Tara Strong? She has experience playing the character and has done live action TV roles too. Some hair dye or a (well fitting) wig could help complete her transformation.
CYBORG
HIM
Steinbeiser suggests Dayo Okeniyi for Cyborg.
I have nothing against this actor. I've only seen him in the Hunger Games.
ME
I'm fine with Okeniyi playing Victor Stone.
STARFIRE
HIM
Steinbeiser suggests Hailee Steinfeld for Starfire.
Starfire has to be a blend of naivety (when it comes to Earth folks' ways and customs), power, and personal pain hidden under a cheerful, optimistic front. I just don't see Steinfeld pulling that off very well. She's a fine dramatic actress, but there is a level of humor (and comedic timing) that comes along with Starfire's naive streak.
ME
---
---
Allison Brie. Annie is kinda the human version of Koriand'r.
BEAST BOY
HIM
---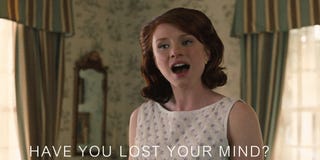 ---
Steinbeiser suggest we ignore Beast Boy and instead use Impulse because the special effects would be too costly to show Beast Boy's powers on the regular. But here is the thing, Beast Boy is awesome, and in my mind integral, to the dynamics of this particular Teen Titan line-up.
ME
---
---
Beast Boy would be well played by Nicholas Hoult. How funny (and fun) would it be to have him playing Beast in X-Men and Beast Boy in Teen Titans?
What would be your dream cast for a live action Teen Titans tv show?