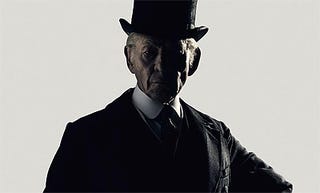 According to the Hollywood Reporter, the Conan Doyle Estate has filed a suit against Miramax claiming that the upcoming movie starring Sir Ian McKellen references Sherlock Holmes stories that are not yet in the public domain.
On Thursday, a copyright and trademark lawsuit was lodged in New Mexico federal court that alleges that Mr. Holmes treads upon the last ten of Doyle's Sherlock Holmes stories, published between 1923 and 1927.
I, for one, did not know that only select works of Doyle was in the public domain. Incidentally, the Conan Doyle Estate believes that the character Sherlock Holmes himself is copyrighted until 2023 according to a NY Times article, and TV shows such as Sherlock and Elementary have received express permission from the estate to use the likeness of the character.