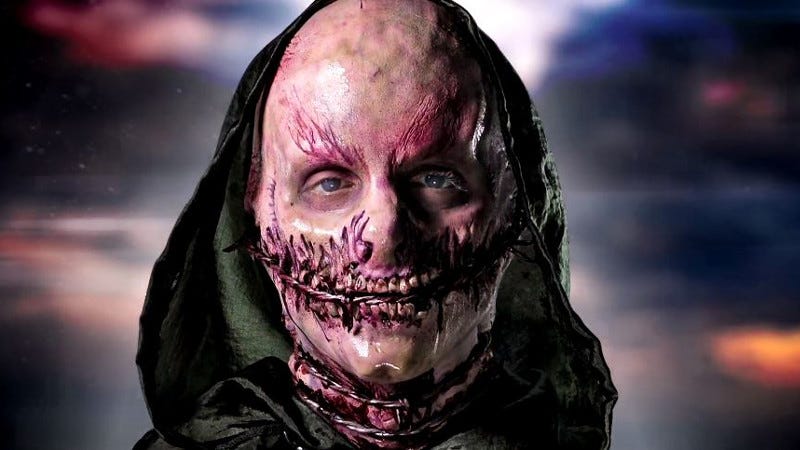 This week on Face Off the eight remaining contestants are tasked with creating the four Horsemen of the Apocalypse. For those not quick with math that's two sets of Horsemen though it's an individual challenge with each contestant working alone on their own Horseman. Results ahead.
Glenn Hetrick (who worked on the movie Legion) joins McKenzie Westmore to introduce the challenge. He tells them to put their own spin on post-apocalyptic Pestilence, War, Famine and Death. This is an opportunity for some of the contestants to go boldly outside of the box. This works well for one artist but not for another.
One set of Horsemen has (left to right) Meg's Pestilence, Jordan's War, Stevie's Famine and Scott's Death. All four were safe and the Top and Bottom Looks came from the other set.
This set of Horseman includes (left to right) Kevon's Pestilence, Ben's War, Nora's Famine and Evan's Death.
Nora has some trouble at first translating her vision into a clay sculpt but her final result (top image) impresses the judges and is a Top Look.
Evan goes bold with his Death putting the skull over the muscles given how the judges are big on correct anatomy. He also gives Death a mask that complements the look. The judges like the look and his bold move pays off. Evan wins this challenge.
Ben has problems from the get-go with his War and ends up a Bottom Look. He's sure he is going home (but since he's shown saying he's going home throughout the episode I knew he was absolutely not going home yet).
Kevon went bold with his bacteria-looking Pestilence. Unlike Evan, Kevon doesn't impress the judges with his design and is eliminated this week.
I predict Nora will be in the finale. She's often in the Top Looks even if she doesn't win a lot of challenges (and she's getting a lot of screen time). So unless she has a bad week like Ben did this time she's in the finale. Ben (despite this week), Scott and Evan are my other candidates for the finale. I realize that's four people for three slots so one of them won't make the cut.
You can see galleries of this week's designs, the contestants' previous work and previous seasons here.