We're back with the News Night team for Season 2, new and improved, now with bonus Marcia Gay Harden! The witty Sorkin banter continues as we address the fallout from the season 1 finale and start a whole new scandalous subplot.
Spoilers ahead...
When last we saw Will McAvoy, he was calling the Tea Party the American Taliban, and this week we find out that AWM suffered for it. (But let's be honest, no one cried for Reese as he got bounced.) Will feels the fallout too as Charlie tells him he won't be covering the 9/11 anniversary, which Will brushes off at first but later reveals that it was a blow.
Meanwhile, everyone's favorite Jim and Pam replacement are still pretending they are totally cool with kissing and semi-professing their love for each other, then pretending it didn't happen because Maggie is too nice to let Don off the hook. Jim is pissed - rightfully so - and decides to get out of dodge by going on the road reporting on the Romney campaign. Naturally, once Jim is gone, Don finds out Maggie's true feelings about Jim (thank you, YouTube!) and breaks it off, seemingly for good.
Tangent: What do we want to call them? All I can come up with is Jaggie. Jorper? Or how about Mini-Mack and the Mop. Who-Can-Out-Longing-The-Other? Another debate for the comments section.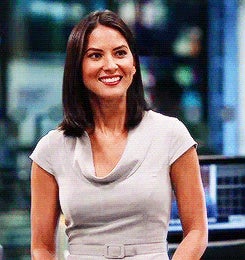 But it's ok, Don's consolation prize will be fantasy football commissioner, former class Treasurer, and "money skirt" Sloan Sabbith. Sometimes Olivia Munn owns this show, particularly when she and Sam Waterston are given some verbal fencing together. I am happy to see that her role continues to be a big one in the newsroom, and not just as a potential love interest for Don.
Neal, meanwhile, is trying to get the scoop on Occupy Wall Street before anyone else thinks it's a real story. Good for him.
We get most of these updates as flashbacks. The main timeline for the season is 14 months after the American Taliban broadcast, during Hurricane Sandy. At this point, News Night is under fire for a report they broadcast on some clandestine operation called Genoa. Lawyer Marcia Gay Harden is deposing (?) Will and Mack and Maggie while we see the beginnings of it via flashback. It's not clear to me what's going on with Genoa at this point, but we know it's not good. MGH is a very expensive lawyer, hired to protect News Night from some very bad consequences, but that's all I've really got so far. (Something about the US using chemical weapons??) I'm sure we'll get more details as the history of it unfolds this season.
FYI: I did hear that the Genoa storyline is fictional, so don't go looking in the history books for clues. Won't help.
And now, in the tradition of True Blood recaps, I shall construct a Pro/Con list for the episode. Feel free to add your own in the comments!
Pro: New intro! More NYC-focused, less long-tradition-of-a-noble-profession-ness. And it seemed shorter! Huzzah! (The theme song was a bit different too.)
Con: Maggie's hair wtf??
Pro: Oh good, Lawyer MGH feels the same way.
Con: Oh shit, something awful happened to Maggie in Uganda. I'm not sure I want to know.
Pro: "What happened after you called the Tea Party the American Taliban?" "The Taliban resented it." Ladies and gentlemen, our Bazinga of the night!
Pro: Charlie+Sloan nerd banter 4eva!
Pro: Will's passion for educating the masses on musical theatre.
Con: Jerry what's-his-name...I'm going to call him Not-Jim. I don't like Not-Jim. Bring back Jim, Not-Jim just feels icky. And wrong. Jim helps you recover from anxiety attacks and Not-Jim picks PERIOD. man for the broadcast and causes Genoa trouble. GET OUT OF MY NEWSROOM, NOT-JIM!
Con: Where is Will's bodyguard? He was awesome. I guess we're ignoring the death threats now.
Tell us your thoughts in the comments!