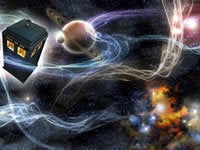 The Planetarium as TARDIS - Planetarium Show
FRIDAY, AUGUST 15, 2014 AT 8:00PM
Smith Hall, Room 521 Towson University, 8000 York Rd, Towson, MD 21252, USA
Speaker: Dr. Matthew Perkins,
Towson University.
From H.G. Wells to Doctor Who, people have dreamed of traveling through space and time. The planetarium allows us to do both, giving us a special control over the universe. Come see the universe in our time machine as we journey to places near and far to observe the sky.
Telescope viewing after the show, weather permitting.