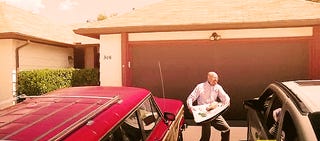 Not that they don't need to be there. The roof has needed repair for more than a year now, and a couple of weeks ago I was told they were finally about to get around to me.
But they didn't knock on the door and say "we're here to work on your roof" or anything like that. I guess that they said something about it to my husband yesterday, but they didn't say anything to either of us this morning. Just starting hearing loud noises.
How much trouble is it to knock on a door?