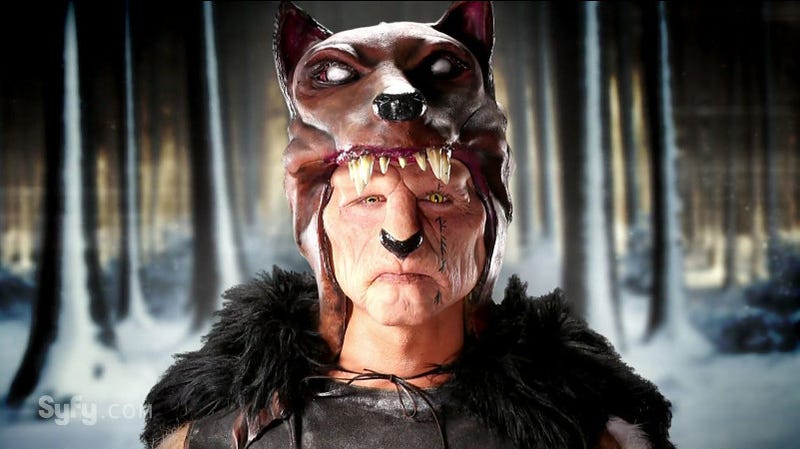 The twelve remaining contestants tackle a distinctive challenge on this week's episode of Face Off when they must create characters inspired by a custom language. One design is obviously an homage to the Observation Deck January Madness.* Results ahead.
McKenzie Westmore is joined by David Peterson, the conlanger (someone who constructs languages) who created the spoken Dothraki language for Game of Thrones as well as languages for Defiance and other shows, to introduce this week's Spotlight Challenge. David Peterson also returns at the reveal stage to serve as a guest judge.
The contestants form teams of two (getting to choose partners this time instead of random pairings). Each team must choose an artifact with accompanying language sample and create a character based on both artifact and language (each artifact has a different language).
So far this season the Top and Bottom Looks have been easy to pick out. There has been one constant in the winning looks but I'll get to that in a moment.
This week's Safe Looks are Walter & Rob's homage to the ODeck January Madness (top image) and Melissa & Katie's character (above).
Mel & Kaleb's serpent-like creation with a fabricated moving air bladder earns them a Top Look. While David Peterson has a little quibble with the fangs, he and the other judges agree that the design does embody the language. Ve sums it up as "He's a cool looking dude."
But Anna & Yvonne's false god earns the other Top Look and Yvonne wins the challenge. I mentioned last week that Anna had been on the top team and Yvonne had been a Bottom Look both times so far. Anna is now three for three regarding top teams but still hasn't won a challenge herself. If nothing else, she's the go-to partner to have. I really want to see how she (and Yvonne) does in an individual challenge.
At the other end Johnny & Robert's creature (left), dubbed Octoman by Robert, lands in Bottom Looks even with their model giving his all getting into character. David Peterson says that their creature wouldn't be able to make some of the sounds in the language sample with a beak. Njoroge & Ant's frog-like creature (right) is cartoonish and poorly executed. Ant is sent home.
In the McKenzie Report here is McKenzie Westmore's look at the reveal stage.
Next week the guest judge is Gale Ann Hurd, who also has a new series coming to Syfy later this year. Yay synergy!
As always, you can see galleries of this week's designs, the contestants' previous work and previous seasons here. Images in this post via screencap.
*I haven't voted or picked sides. I simply noticed how the design fit in with the ODeck event.