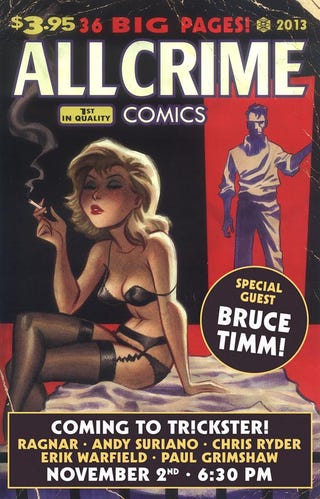 If you're in the Bay Area next weekend you may want to head on over to Berkley, where Tr!ckster is holding an event called Art of Fiction: All Crime Comics.
Tr!ckster is more or less known as a way station for creatives (from student artists to Fabio Moon) when they have a pop-up location at SDCC every year. But they also have a stunning galley down in Berkley where creator owned books, prints, and toys are sold from a large and eclectic stable of artists.
Saturday's Crime Show is free, with Ragnar, Andy Suriano, Erik Warfield, Paul Grimshaw and Chris Ryder from the Art of Fiction/All Crime Comics in attendance. However Special Guest Bruce Timm will also be there, so you should obviously go if you can.
Here's the Event Facebook Page for all those interested.