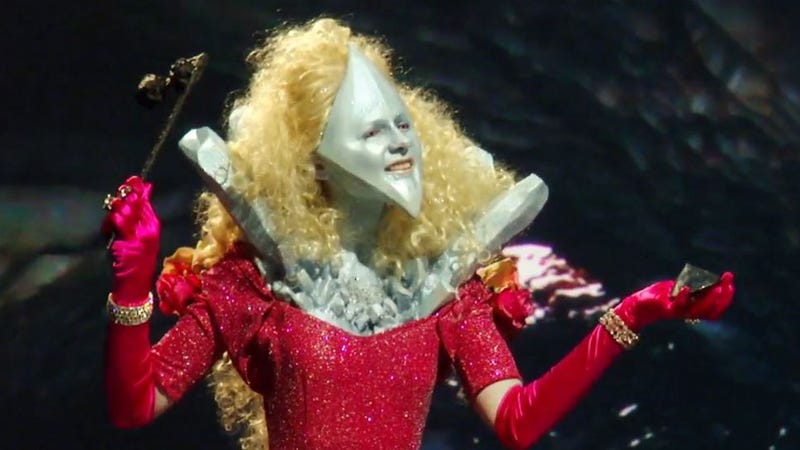 On this week's episode of Face Off the six remaining contestants are tasked with bringing to life the imaginary friends of some special clients - 6 to 8 year old children (I'll let you make your own jokes about childish filmmakers and television executives). Results ahead.
As Laura mentions, this is much like a challenge from Season 3 (a challenge that Laura won). The trick is to balance the wishes of the client with what the judges are looking for. McKenzie uses the word "whimsical" when presenting the challenge which gives the contestants guidance on what the judges want.
Logan really wanted to make a monster but "when a little girl asks you to make a mermaid, you make a mermaid." It's not his best work but good enough to be safe this week. Emily had some issues (more on that below) but is also safe this week.
Darla has the perky model (Megan if I remember correctly) who helps sell the blue diamond design (Micheal Westmore correctly advised Darla not to cover the model's face with a prosthetic) which lands her in the top looks. Adam pulls off a big furry colorful monster that is a hit with the judges. He gets his first Spotlight Challenge win.
Julian tries to make a kid friendly zombie break dancer but falls short trying to meet both what his client described and the whimsical aspect the judges were looking for. Ben tries for big and bold with a three headed monster but bites off more than he can chew. He simply doesn't have enough time to get everything done to a decent standard. the result is poor enough to send him home. With Ben's elimination Team Anthony is also eliminated.
Homesickness is getting to Emily. She is safe this week mainly due to Laura's pep talk. Julian is too inconsistent with his work. Those two will be eliminated and my prediction for the finale is Darla, Adam and Logan. Feel free to tell me why I'm wrong.
You can see galleries of this week's designs, past works of the champions and previous seasons here.