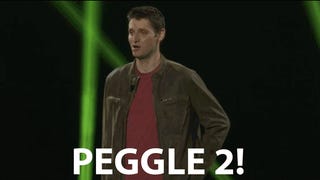 It's another quiet December week for video games, but Xbox One owners are about to get their first hot post-launch exclusive, and... well, that's pretty much it. But let's not have the winter break stop a new edition of Tuesday Game Room!
What have you been playing this week?
This is a public service announcement: If you're in Europe, you must go out and buy a copy of Bravely Default this instant. If you're in the US, preorder it, and wait patiently till next February. Because if you ever once held the JRPG genre or classic Final Fantasy close to your heart, this game isn't just highly recommended, it is a must play for genre fans.
Oh Bravely Default, let me count the ways. From the incredible classic fantasy aesthetic, directly from the pen of Akihiko Yoshida, one of the greatest Japanese game artists of all time, the actually-amazing use of 3D to make 2D backgrounds suddenly look like deep, pop-up-book esque (aided by a camera that zooms far out when idle, allowing you to savour sumptuous views of the games marvellous cities and landscape) paintings, the slightly janky but still loveable voice acting, the incredibly awesome soundtrack (JUST STOP EVERYTHING YOU'RE DOING AND LISTEN TO THIS BOSS THEME OH MY GODDDD) from the dudes behind the opening themes for Attack on Titan, to the deeply satisfying and addictive combat system, a blend between traditional turn based gameplay and fresh twists like the Brave Point and Default mechanics... there's just too much for me to mention here, and I adore it all. It's a game that just exudes charm and whimsy at every opportunity, a love letter to the golden days of Japanese RPGs that is reverent of the past and yet mindful to change things up mechanically and keep it feeling new and exciting. It's all my love to long ago, bundled in a tiny little 3DS cartridge.
It might just be my favourite game of the year.
New Releases!
It's another week of slim pickings, with hardly anything coming out - Peggle 2, a timed exclusive thanks to EA and Microsoft's dealmaking earlier this year, makes its way to the Xbox One this week, and Doki-Doki Universe hits PS3, PS4 and the Vita. That's it!
Unless you're interested in phone games, because Angry Birds Go!, the Angry Birds Kart racer you've always wanted, hits the App Stores on iOS, Android and Windows Phone too.
And now, the News: VGX 2013 Edition
Once again it's time for a few select picks from the last week of Gaming news, via Eurogamer, but with a twist - here's all the announcements from Saturday night's... well, let's be polite and say cringetacular, Spike TV VGX awards:
Reminder!
Don't forget, voting is still open for the O-Deck's first Community Game of the Year Award! If you've still not voted, head on over to this post for a summary of the rules and to leave your comment. You've got until Midnight EST on December 30th.
We'll be back this time next Tuesday for more gaming discussion, but for now, sound off in the comments with the games you've been playing, and what you're looking forward to this week - and don't forget to join us on Steam!