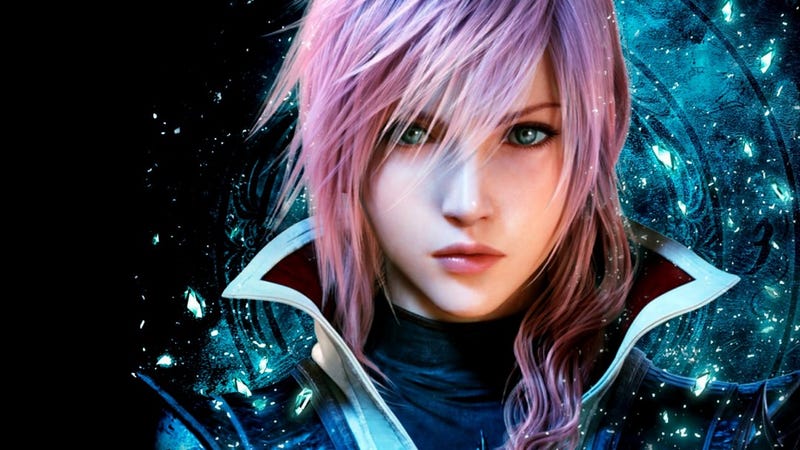 Last saw the potential start of a new era for Square-Enix's JRPGs in Bravely Default, but this week sees the end of an altogether different one with the release of the third game in the Final Fantasy XIII series, Lightning Returns. So grab your ridiculous sci-fi sunglasses, and paradigm shift into this week's Tuesday Game Room!
What have you been playing this week?
WoW has been the focus of my attention once again this week, as my Pandaren Hunter hit Pandaria-level content. I would probably be level 90 already, if not for the obscene dungeon finder queues I've suddenly hit in this 85-90 range:
Over 30 goddamn minutes to find a group! Fun fact: This particular queue would go on to last an hour and seven minutes. I managed to write both this TGR and an essay for University waiting for it to pop. Sheesh!
Also, the recent US release of Bravely Default, as well as my post on some of the best reasons to play it suddenly getting mainpaged, kinda got me to play through it all again. I still absolutely love it. You're probably tired of hearing that, but I really, really don't care when it comes to Bravely Default.
New Releases!
It's actually a really busy and really rather bizarre week for releases - leading the charge is the third (third!) and presumably final entry in the Final Fantasy Fabula Nova Crystallis series is Lightning Returns: Final Fantasy XIII, out on Xbox 360 and PS3. It's a japanese love-in on handhelds too, with the Vita getting Danganrompa: Trigger Happy Havoc and Toukiden: The Age of Demons (also out on PSP) - not to be missed out, the 3DS joins in with One Piece: Romance Dawn. World of Tanks leaves beta and hits retail on Xbox 360, and SNK are randomly putting Metal Slug 3 out on PC.
But it doesn't stop there! Like bundles? Because there's a weird amount of them all out this week! Civilization V: The Complete Edition on PC and The Witcher 2: Assassins of Kings Silver Edition on Xbox 360 bundle up their base games and their additional content, but as for double packs of games, a Borderlands 2 and Dishonoured Bundle hits the 360 and PS3, Far Cry Compilation hits PS3 alone (Far Cry Classic, the original game in the series, is also released as a separate title on XBLA and PSN), and - really, really weirdly - there's also a 360 and PS3 release of The Elder Scrolls V: Skyrim and Bioshock Infinite Bundle.Yeah.
Finally, you can celebrate Valentine's Day with your loved one this Friday by curling up on the couch and playing the newly-released The Last of Us: Left Behind, the DLC prequel to Naughty Dog's depressive, beautiful PS3 exclusive that wowed the pants off everyone last year. Maybe stick to some flowers and a nice meal instead, eh?
And now, the News
Once again it's time for a few select picks from the last week of Gaming news, via Eurogamer:
We'll be back this time next Tuesday for more gaming discussion, but for now, sound off in the comments with the games you've been playing, and what you're looking forward to this week - and don't forget to join us on Steam!