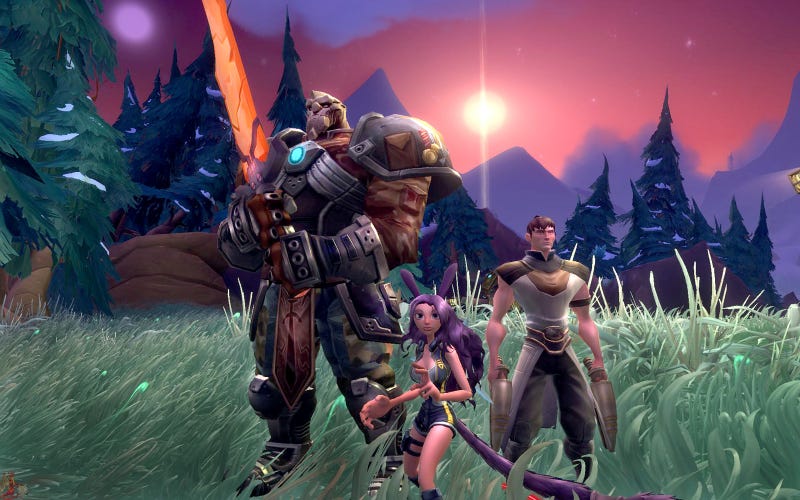 It's Pre-E3 week! And... everyone's announcing their games now instead of next week? Huh. Okay. But that's not all that's going on, with the long awaited release of the cartoony sci-fi MMO WildStar. Will you be heading to Nexus? Let us know in an all new edition of Tuesday Game Room!
What have you been playing this week?
Work and impending final degree exams have been distracting the vast majority of my gaming time this week, but I've managed to dip my toes ever so briefly into Watch_Dogs. It's very much not the big game changer that generated the hype in 2012 (and propelled it to one of the best new IP débuts in the industry when it went on sale), but it's basically, in a reductive way, another well done Ubisoft open world, just with hacking. I've barely played it - I've only just met Clara, which after Doctor Who is driving me nuts as everyone calls her 'Claire-rah'! - but I'll keep on with it. Seems like the game everyone should be excited about is the inevitable Watch_Dogs 2: Doge_Boogaloo though, instead of this one.
In fact, I've done more gaming related stuff by absolutely living and breathing Transistor's sublime soundtrack. It has consumed me, consumed I say!
So. Good.
New Releases!
Everyone's desperately trying to shove their video games out this week, as the shadow of E3 next week looms. I think there's like, 1 game due out next week. You don't put out games during E3!
This week is kicked off with today's 'official' release of WildStar on PC - even though most people have been playing it since early access started last Friday. Will this long awaited Sci-Fi MMO live up to the hype? I enjoyed what I played of the open beta, but I think I'll pass on a trip to Planet Nexus for now.
Meanwhile Murdered: Soul Suspect has been sent out to die this week on PS3, PS4, Xbox 360 and Xbox One with little to no fanfare, another trio of Vita games hit (what is it with Vita games and threes?) in the form of Hyperdimension Neptunia PP, Playstation Vita Pets and Pixeljunk Shooter Ultimate (that last one's crossbuy with PS4, too!), the digital upgrade version of Ultimate Street Fighter IV lands on PSN and XBLA, and War Thunder, the free-to-play WWII dogfight game, makes its way to American PS4s. Europe's had it since launch!
Oh, and not to be left out, Nintendo is putting out the absurdly delightful, yet socially controversial Tomodachi Life for 3DS this Friday. This game looks nuuuuuuuuuuuts.
And now, the News
Once again it's time for a few select picks from the last week of Gaming news, via Eurogamer:
We'll be back this time next Tuesday for more gaming discussion, but for now, sound off in the comments with the games you've been playing, and what you're looking forward to this week - and don't forget to join us on Steam!