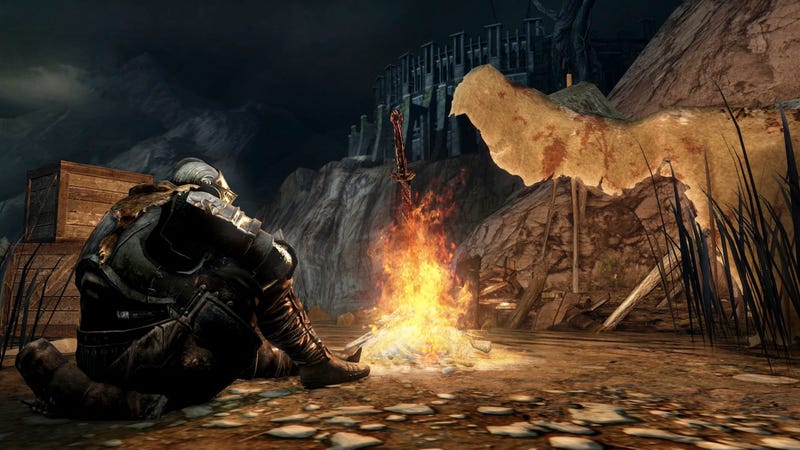 It seems like the end of April is heralding video games' customary summer lull a little earlier than expected, with the PC release of Dark Souls II being this week's big title. Will you be venturing to Drangleic with PC in tow? Come rest at the bonfire and enjoy this week's edition of Tuesday Game Room!
What have you been playing this week?
My adventures in Eorzea continue unabated this week, with little Taroro raring through content. I've faced down the Primals Ifrit and Titan, and am almost on my way to take down the Lady of the Vortex, Garuda herself. It's been an absolute blast playing through the game again, and adapting to the foibles of controller play - even massively expanding my ability kit as a Summoner hasn't managed to break the rigours of the DS4 and its Cross Hotbar system yet. Plus, I think about half my PS4's hard drive is taken up with screenshots from it. Such a fabulously pretty game! Oh, and then there's this cutie:
Gaze upon the Fat Chocobo's mighty girth, and despair.
New Releases!
Dark Souls II makes its much anticipated arrival on PCs this week, spearhearding... well, basically nothing else. Isn't it weird after the Games Industry spent the last few years complaining the current generation had gone on too long and were eager for new hardware, and yet in this first year so far it feels like there's hardly anything coming out for them, let alone in general. Ah well.
The PC is getting the bulk of focus this week, with ports of Max: The Curse of Brotherhood and Trials Fusion also hitting the platform. The Wii U gets a few titles too to round off the week - Lego The Hobbit on retail, NES Remix 2 hits the eShop, and Yoshi's Island: Super Mario Advanced 3 is the Virtual Console release of the week.
And now, the News
Once again it's time for a few select picks from the last week of Gaming news, via Eurogamer:
We'll be back this time next Tuesday for more gaming discussion, but for now, sound off in the comments with the games you've been playing, and what you're looking forward to this week - and don't forget to join us on Steam!