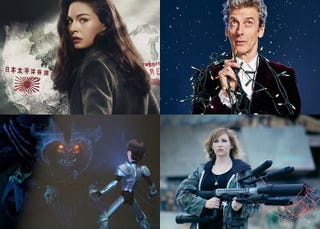 We are down to the last month of the year, which means lots of shows are ending or going on hiatus. However, there are still a few shows starting up in December and some Christmas specials to look forward to. Check below to see what is coming up this month and early next year.

---
NOVEMBER

30
Incorporated (Syfy / Showcase - Canada)

Set in a near future where corporations have unlimited power, Incorporated centers around Ben Larson (Sean Teale, "Reign"), a young executive who conceals his true identity to infiltrate a very dangerous corporate world to save the woman he loves. But he'll soon learn that he's not the only one whose secrets may have deadly consequences.
Vikings (History)
---
DECEMBER

3
Class (BBC Three - UK / Space - Canada) **Season Finale
4
Once Upon A Time (ABC) **Winter Finale
Westworld (HBO) **Season Finale
6
Agents Of SHIELD, Marvel's (ABC) **Winter Finale
7
Shut Eye (Hulu)

Charlie Haverford is a failed magician who now works as a psychic/conman overseeing a number of fortune telling parlors in Los Angeles. Employed for many years by a Romani kingpin, Charlie's life is stifled and going nowhere until a blow to the head jars him into a new mindset and makes him question everything he has ever believed. When his wife urges him to break out on his own, he's careful - because he knows that one wrong move will land him in a shallow grave.
8
Con Man (Comic-Con HQ - US only / TBA for International)
9
Van Helsing (Syfy) **Season Finale
White Rabbit Project (Netflix)
Kari Byron, Tory Belleci and Grant Imahara head down the rabbit hole to investigate weird and wonderful events from pop culture, science and history. Under their microscope are topics as diverse as jailbreaks, superpower technology, heists and crazy world war two weapons. In each episode the hosts immerse themselves in experiments, builds and tests as they sleuth the truth behind these and other well googled themes.
10
Dirk Gently's Holistic Detective Agency (BBC America) **Season Finale
11
Ash Vs Evil Dead (Starz) **Season Finale
Dirk Gently's Holistic Detective Agency (Netflix - non-USA)

A comedic thriller that follows the bizarre adventures of eccentric "holistic" detective Dirk Gently and his reluctant assistant Todd. Based on the comic novels by Douglas Adams.
The Walking Dead (AMC) **Winter Finale
Yonderland (Sky1 - UK) **Season Finale
13
Slingshot, Marvel's (ABC on-line)
14
Timeless (E4 - UK)
16
The Exorcist (Fox) **Season Finale
The Man In The High Castle (Amazon)
The OA (Netflix)
18
Humans (Channel 4 - UK) **Season Finale
19
People Of Earth (TBS) **Season Finale
20
Aftermath (Syfy / Space - Canada) **Season Finale
Scream Queens (Fox) **Season Finale
23
Sense8 (Netflix) **Christmas Special
Travelers (Netflix - excluding Canada)
Hundreds of years from now, the last surviving humans discover the means of sending consciousness back through time, directly into people in the 21st century. These "travelers" assume the lives of seemingly random people, while secretly working as teams to perform missions in order to save humanity from a terrible future.
Trollhunters (Netflix)

A series from Guillermo del Toro. Set in the fictional suburb of Arcadia, our unlikely hero, Jim, and his two best friends make a startling discovery that beneath their hometown lies a hidden battle between good trolls and bad, the outcome of which will impact their lives forever.
25
Doctor Who (BBC America) **Christmas Special
Inside No. 9 (BBC - UK) **Christmas Special
The Last Dragonslayer (Sky1) **Special

A magical blend of past and present, medieval and modern, the story follows indentured orphan Jennifer Strange who reluctantly discovers her destiny is to become the last Dragonslayer. Based on the novel by Jasper Fforde.
---
JANUARY
1
Sherlock (BBC / PBS)
2
Beyond (Freeform)

A young man wakes up from a coma after 12 years and discovers new supernatural abilities that propel him into the middle of a dangerous conspiracy.
Shadowhunters (Freeform)
3
Bones (Fox) **Final season
4
Blindspot (NBC)
5
The Good Place (NBC)
6
Emerald City (NBC)

In the blink of a tornado's eye, 20-year-old Dorothy Gale and a K9 police dog are swept into a world far removed from our own - a mystical land of competing realms, lethal warriors, dark magic and a bloody battle for supremacy.
Grimm (NBC)
Sleepy Hollow (Fox)
10
Agents Of SHIELD, Marvel's (ABC)
12
Colony (USA)
13
Lemony Snicket's A Series Of Unfortunate Events (Netflix)

The series will follow the children as they try to solve the myster of their parents' death, all while dodging an evil uncle who is trying to steal their fortune. Based on the Lemony Snicket children's book series.
15
Sherlock (BBC / PBS) **Season Finale
16
Lucifer (Fox)
17
No Tomorrow (CW) **Season Finale
20
Voltron: Legendary Defender (Netflix)

Five unsuspecting teenagers are transported from Earth into the middle of a sprawling intergalactic war and become pilots for five robotic lions in the battle to protect the universe from evil. Only through the true power of teamwork can they unite to form the mighty warrior known as Voltron. (Animated)
23
Supergirl (CW)
24
Face Off (Syfy)
The Flash (CW)
Legends Of Tomorrow, DC's (CW) **new day
25
Frequency (CW) **Season Finale
The Magicians (Syfy)
26
Riverdale (CW)

Archie, Betty, Veronica, and their friends that explore the surrealism of small town life and the darkness that is bubbling between Riverdale's wholesome facade.
Supernatural (CW)
29
Black Sails (Starz)
30
Gotham (Fox) **Winter Finale
Lucifer (Fox) **Winter Finale

---
FEBRUARY
1
The 100 (CW)
Arrow (CW)
3
Crazy Ex-Girlfriend (CW) **Season Finale
8
The Expanse (Syfy)
10
Reign (CW)
The Vampire Diaries (CW)
12
The Walking Dead (AMC)

---
MARCH
10
The Vampire Diaries (CW) **Series Finale
17
Iron Fist, Marvel's (Netflix)

Billionaire Danny Rand returns to New York City after being missing for years, trying to reconnect with his past and his family legacy. He fights against the criminal element corrupting New York City with his kung-fu mastery and ability to summon the awesome power of the fiery Iron Fist.
The Originals (CW)
28
Legends Of Tomorrow, DC's (CW) **Season Finale

---
APRIL
4
iZombie (CW) **2-hour premiere

---
MAY
5
Sense8 (Netflix)
---
CURRENTLY AIRING
3% (Netflix)
Aftermath (Syfy / Space - Canada)
Agents Of SHIELD, Marvel's (ABC)
Arrow (CW)
Ash Vs Evil Dead (Starz)
Blindspot (NBC)
Class (BBC Three - UK / Space - Canada) [BBC America - 2017 April?]
Crazy Ex-Girlfriend (CW)
Danger Mouse (Netflix - select countries)
Dirk Gently's Holistic Detective Agency (BBC America)
Elementary (CBS)
The Exorcist (Fox)
Falling Water (USA / Bravo - Canada)
The Flash (CW)
Frequency (CW)
The Good Place (NBC)
Gotham (Fox)
Humans (Channel 4 - UK) / February 2017 (AMC - US)
Incorporated (Syfy / Showcase - Canada)
Last Man On Earth (Fox)
Legends Of Tomorrow, DC's (CW)
The Librarians (TNT)
Lucifer (Fox)
MacGyver (CBS)
Mars (National Geographic)
No Tomorrow (CW)
Once Upon A Time (ABC)
People Of Earth (TBS)
Salem (WGN America)
Scorpion (CBS)
Scream Queens (Fox)
Son Of Zorn (Fox)
Star Wars Rebels (Disney XD)
Steven Universe (Cartoon Network)
Supergirl (CW)
Supernatural (CW)
Sweet/Vicious (MTV)
Teen Wolf (MTV) **Final Season
Timeless (NBC)
Travelers (Showcase - Canada)
The Vampire Diaries (CW) **Final Season
Van Helsing (Syfy)
Vikings (History)
The Walking Dead (AMC)
Westworld (HBO)
Yonderland (Sky1 - UK)
Z Nation (Syfy)

---
TBA:
12 Monkeys - 2017
The Alienist (TNT) - 2017?

A psychological thriller set in 1896 New York. When a series of haunting, gruesome murders of boy prostitutes grips the city, newly appointed police commissioner Theodore Roosevelt calls upon criminal psychologist (aka alienist) Dr. Laszlo Kreizler and newspaper reporter John Moore to conduct the investigation in secret. Using the emerging disciplines of psychology and early forensic investigation techniques, they track down one of New York City's first serial killers. Based on the novel by Caleb Carr.

Altered Carbon (Netflix)

Based on the Richard Morgan book which is set in the 25th century and explores what happens when the human mind becomes digitized and the soul is transferable from one body to another. Takeshi Kovacs, an ex-elite interstellar warrior known as an Envoy who has been imprisoned for 500 years, is downloaded into a future he had tried to stop. If he can solve a single murder in a world where technology has made death nearly obsolete, he will get a chance at a new life on Earth.

American Gods (Starz) - 2017

Based on the Neil Gaiman novel. Released from prison, Shadow finds his world turned upside down. His wife has been killed; a mysterious stranger offers him a job. But Mr. Wednesday, who knows more about Shadow than is possible, warns that a storm is coming — a battle for the very soul of America . . . and they are in its direct path.

Bates Motel (A&E) - 2017 ** Final season
Blame! (Netflix) - 2017

Set in the distant future where what's left of the human race resides within the Megastructure, a vast and dangerous labyrinth that has grown wild and out of control. Thrown into this world is the mysterious Killy, a strange individual who is on a quest to bring civilization back from the brink of oblivion. (Anime)

Blood Drive (Syfy) - 2017

LA's last good cop is forced to join a twisted and gory cross-country death race. The cars are fueled by blood and his partner, a dangerous femme fatale, sees people as fuel.

Cloak and Dagger, Marvel's (Freeform) - 2017

Follows Tandy Bowen and Tyrone Johnson, two teenagers from very different backgrounds, who find themselves burdened and awakened to newly acquired superpowers while falling in love. Tandy can emit light daggers and Tyrone has the ability to engulf others in darkness.
The Cloud (Channel 4 - UK)

The job of Cloud Station 13 is to protect the vast amounts of information the human population now hoards on its endless devices - the majority of which comprises of selfies, copious pictures of kittens and a lot of porn.
The disparate group who man the hub are anything but technical whizzes; which would matter less if technology - including a largely voice activated ship - was a little more reliable.
Crazy Face (Netflix) - 2017

When people die most go quietly into the night. But some have unfinished business: scores to settle, blood to spill, axes to plant in people's heads...These tormented souls work through their issues by possessing the living. Most of the time they walk freely amongst us, unseen by all but a special few. Amy is one of those few. She works in a bowling alley and never really imagined herself battling the legions of hell. It can play havoc with a girl's love life. Not to mention her mind. Thankfully Amy isn't alone. Enter Raquel. Armed with Wikipedia and a baton she bought on e-bay, Raquel's a self-made demon hunter with a whole lot of baggage and an impressive lack of social skills. An unlikely friendship is born as Amy and Raquel attempt to navigate their way through the choppy waters of their early twenties whilst simultaneously kicking the ass of some seriously gnarly demons. What could possibly go wrong?

Daredevil, Marvel's (Netflix) - 2018
Dark (Netflix) - 2017

A family saga with a supernatural twist is set in a German town in present day where the disappearance of two young children exposes the double lives and fractured relationships among four families. The story takes on a supernatural twist that ties back to the same town in 1986.
Dark Matter (Syfy) - 2017
The Defenders, Marvel's (Netflix) - 2017
Doctor Who (BBC America) - April 2017
Edgar Rice Burroughs' Tarzan and Jane (Netflix)

In this modern day remake, 16 year old Tarzan is returned from the African jungle to a London boarding school where he is a "fish-out-of-water" and challenges conformity. As the title suggests, Jane is central to the story, alongside Tarzan, as his ultimate partner in solving environmental injustice, crimes and mysteries. (Animated)
Electric Dreams: The World of Philip K. Dick (Channel 4 - UK)

A 10-part anthology series based on the work of Philip K. Dick.
The Few - January 2017 (https://www.facebook.com/fewniverse)

When a disillusioned uni-grad and a jaded army vet discover they have super-human abilities, and begin to use their powers for evil acts, a young rogue detective decides to go on the hunt for a new super-human, who may or may not be sympathetic to his cause.
Game Of Thrones (HBO) - 2017
The Good Witch (Hallmark) - 2017
The Handmaid's Tale (Hulu) - 2017

Gilead is a totalitarian society with a plunging birthrate ruled by a twisted religious fundamentalism that treats women as property of the state. As one of the few remaining fertile women, Offred is a Handmaid in the Commander's household, one of the caste of women forced into sexual servitude as a last desperate attempt to repopulate a devastated world. In a society where one wrong word could end her life, she has one goal: to survive and find the daughter that was taken from her.

Hilda (Netflix) - 2018

Based on the graphic novels by Luke Pearson. The series follows the journey of a fearless blue-haired girl as she travels from her home in a vast magical wilderness full of elves and giants to the bustling city of Trolberg, where she makes new friends and discovers mysterious creatures who are stranger –and sometimes more dangerous– than she ever expected. (Kids)
Humans (AMC - US) - February 2017
Imaginary Mary (ABC) - Midseason 2017

Live-action/CGI project centers on Alice, a fiercely independent career woman whose life is turned upside-down when she meets the love of her life – a divorced father with three kids. This triggers even more upheaval when the slightly unhinged imaginary friend she created as a child suddenly reappears to help her navigate the transition from single girl to a woman ready for a family.
The Inhumans, Marvel's (ABC) - Fall 2017 [IMAX preview early September]
Inside No. 9 (BBC - UK) - 2017
Into The Badlands (AMC) - 2017
Killjoys (Syfy) - 2017
Knightfall (History) - 2017?
Chronicles the mysterious but true accounts of the Knights Templar, the elite warriors of the Crusades. Delving into the great secrets protected by the Templars, it tells the story of faith, loyalty and brotherhood that help sustain these warriors on the battlefield and the dark events that would forever sear the infamous date of Friday the 13th into the world's psyche.
Jessica Jones, Marvel's (Netflix) - 2018
Kong: King of the Apes (Netflix) - 2017
The Leftovers (HBO) - 2017
Legion (FX) - February 2017

Follows the story of David Haller, a troubled young man who may be more than human. Since he was a teenager, David has struggled with mental illness. Diagnosed as schizophrenic, David has been in and out of psychiatric hospitals for years. But after a strange encounter with a fellow patient, he's confronted with the possibility that the voices he hears and the visions he sees might be real.
Lost In Space (Netflix) - 2018

Centers around the Robinson family, who is forced to come together in a time of crisis. Stranded light years from their intended destination, they find themselves battling a strange new alien environment and also their own personal demons. Equal parts family drama and sci-fi adventure, it is a survival story for the ages.
Lucky Man, Stan Lee's (Sky 1 - UK) - 2017
Making History (Fox) - Midseason 2017

Centers on three unlikely friends who find an even less likely way to travel through time, irreversibly complicating their personal lives in 2016 as the great moments of the past collide with today's popular culture — with hilarious and quite disastrous results.
Maniac (Netflix)

A guy lives a fantasy life in his dreams but in reality is locked up at an institution. Based on the 2014 Norwegian series.
Midnight, Texas (NBC) - Midseason 2017

About a small town in Texas where the real world bumps up against a host of otherworldly phenomena. Based on novels by Charlaine Harris.
The Mist (Spike) - 2017

Tells the story of a foreboding mist that arrives in one small town ushering in a terrifying new reality for its residents, putting their humanity to the test. What will people do to survive when blinded by fear?
Mr. Robot (USA) - 2017
Mystery Science Theater 3000 (Netflix) - 2017
The OA (Netflix) - 2017?
Orphan Black (BBC America) - 2017 **Final season
Outcast (Cinemax) - 2017
Perfect Bones (Netflix) - 2017

Set in the future where scientists have tried to create the "perfect human" in hopes of keeping peace in the universe. After nearly achieving their goal through several children, the scientists send their "new humans" for further training where they are kidnapped by an evil organization set on using their powers to implement their own concept of a new world order. (Anime)
Powerless (NBC) - Midseason 2017

An office comedy about the exceedingly average employees at an insurance company and their quest to find their own power, set in the DC Comics universe full of superheroes, villains and people just like us.
The Punisher, Marvel's (Netflix)

Follows the Punisher, who is the alter ego of military veteran Frank Castle, who wages a one-man war against crime after his wife and children are killed during a shootout by rival mob outfits. The character's belief in killing criminals rather than apprehending them frequently puts him at odds with Marvel's traditional heroes.
Red Dwarf XII (Dave - UK) - 2017
Red Mars (Spike) - Production on Hold

Based on the Kim Stanley Robinson's Mars Trilogy novels that chronicle the settlement and terraforming of the planet Mars.
Rick and Morty (Adult Swim) - late 2016?
Salvation (CBS) - Summer 2017

An MIT grad student and a tech superstar bring a low-level Pentagon official a staggering discovery – that an asteroid is just six months away from colliding with Earth.
The Shannara Chronicles - Winter 2017
SS-GB (mini series - BBC) - Early 2017?

Based on an alternate history novel by Len Deighton, set in a United Kingdom conquered and occupied by Germany during the Second World War. The series will follow a Scotland Yard detective who investigates what appears to be a simple black market murder, only to find himself dragged into a much darker and treacherous world involving British atomic weapons research secrets.
Star Trek: Discovery (CBS All Access/ Space - Canada/ Netflix - International) - May 2017
Still Star-Crossed (ABC) - Midseason 2017

The show picks up where the famous Romeo & Juliet story ends, following the Montagues and Capulets in the wake of the tragic fate of the young lovers. Based on the Melinda Taub book.
Stitchers (FreeForm) - 2017
The Strain (FX) - 2017
Stranger Things (Netflix) - 2017
Stretch Armstrong (Netflix) - late 2017

From Hasbro Studios comes an animated action/comedy series about overscheduled teenager Jake Armstrong and his two best friends. When the trio are accidentally exposed to an experimental chemical, they become Stretch Armstrong and the Flex Fighters, a team of unlikely superheroes who expand beyond the confines of their lives and embark on a series of adventures.
Tales From The Crypt (TNT) - 2017

Anthology based on the original EC Comics by William Gaines as well as new stories.
The Terror (AMC) - 2017

A Royal Navy expedition crew searching for the Northwest Passage in 1847 is attacked by a mysterious predator that stalks the ships and their crews in a suspenseful and desperate game of survival. Based on Dan Simmoms' 2007 book, it's a fictionalized account of Captain Sir John Franklin's lost expedition of HMS Erebus and HMS Terror.
Time After Time (ABC) - Midseason 2017

Based on the novel and movie Time After Time and described as a fantastical cat and mouse adventure through time when famed science fiction writer H.G. Wells is transported to modern day Manhattan in pursuit of Jack the Ripper.
Timewasters (ITV2 - UK) - 2017

A struggling four-piece South London jazz band travel back in time to the 1920s via a urine-sodden lift in a dilapidated block of flats.
Stuck in the past after their 'time machine' is destroyed, our gang decide to explore, before quickly discovering that being young and black in the Jazz Age is a lot less genteel and a lot more shady than Downton Abbey had led them to believe. Aided and abetted by a pair of oddball twins and some 1920s luminaries, the band are forced to navigate the parties and pitfalls of the Roaring Twenties while searching for a way back home. All the while, not missing the opportunity to introduce the Bright Young Things to some of the twenty-first century's finest tunes.
Twin Peaks (Showtime) - 2017

The original series followed the residents of a quaint northwestern town who were stunned when homecoming queen Laura Palmer was murdered. Twenty-five years later, the story continues...
The White Princess (Starz) - 2017

Set in 1485 and is a follow-up to miniseries The White Queen, continuing the story of the War of the Roses. It covers the conclusion of the war and the rise of the House of Tudor through the marriage of Princess Elizabeth of York, the White Queen's daughter, to King Henry VII Tudor. Based on Phillippa Gregory's novel.
Will (TNT) - 2017

The wild story of young William Shakespeare's arrival onto the punk rock theater scene that was 16th century London — the seductive, violent world where his raw talent faced rioting audiences, religious fanatics and raucous side-shows. It's the hot, contemporary, dangerous version of Shakespeare's life, played to a modern soundtrack, exposing all his recklessness, lustful temptations and brilliance.
Wynonna Earp (Syfy) - 2017
Zoo (CBS) - Summer 2017