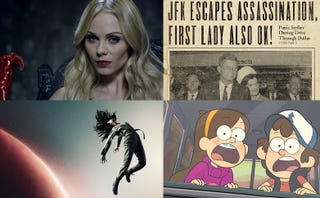 There have been a fair number of announcements for premieres in the last month. This is an update of my previous post compiling important genre tv dates.

---
FEBRUARY
1
Lost Girl (Syfy)
2
The Expanse (Syfy) - Season finale**
5
Sleepy Hollow (Fox)
8
Castle (ABC)
12
Bitten (Space **Canadian premiere)
14
Talking Dead (AMC)
The Walking Dead (AMC)
15
11/22/63 (Hulu)
Bitten (Syfy)
Gravity Falls (Disney XD) - 1 hour Series Finale**
18
Vikings (History)
22
The X-Files (Fox) - Season finale**
25
Prey (BBC America)
29
Blindspot (NBC)
Gotham (Fox)
---
MARCH
6
The Last Man On Earth (Fox)
Once Upon A Time (ABC)
Quantico (ABC)
7
Bates Motel (A&E)
Damien (A&E)
8
Marvel's Agents Of SHIELD (ABC)
Of Kings and Prophets (ABC)
18
Daredevil (Netflix)
22
Stitchers (Freeform)
---
APRIL
1
Wynonna Earp (Syfy)
9
Outlander (Starz)
10
Fear The Walking Dead (AMC)
11
Hunters (Syfy)
14
Bones (Fox)
15
Kong: King Of Apes (Netflix)
18
12 Monkeys (Syfy)
19
Containment (CW)
20
Scream (MTV)
24
Game Of Thrones (HBO)
25
Reign (CW)
---
MAY
1
Penny Dreadful (Showtime)
---
JUNE
Beauty And The Beast (CW)

---
JULY
15
Stranger Things (Netflix) (aka Montauk)
---
CURRENTLY AIRING
The 100 (CW)
Agent Carter, Marvel's (ABC)
Angel From Hell (CBS)
Arrow (CW)
Beowulf (Esquire)
The Big Bang Theory (CBS)
Black Sails (Starz)
Colony (USA)
CSI: Cyber (CBS)
Elementary (CBS)
The Expanse (Syfy)
Face-Off (Syfy)
The Flash (CW)
Gravity Falls (Disney XD)
Grimm (NBC)
iZombie (CW)
Legends Of Tomorrow, DC's (CW)
Limitless (CBS)
Lucifer (Fox)
The Magicians (Syfy)
Mythbusters (Discovery)
The Originals (CW)
Scorpion (CBS)
Second Chance (Fox)
Shadowhunters (Freeform)
The Shannara Chronicles (MTV)
Supergirl (CBS)
Supernatural (CW)
Teen Wolf (MTV)
The Vampire Diaries (CW)
The Venture Bros (Adult Swim)
The X-Files (Fox)
You, Me And The Apocalypse (NBC)
---
TBA
Beyond (Freeform)
BrainDead (CBS)
Dark Matter (Syfy)
Deadbeat (Hulu) - April?
Emerald City (NBC)
Falling Water (USA)
Humans (AMC)
Killjoys (Syfy)
The Last Ship (TNT)
Luke Cage (Netflix)
Lumen (TNT)
Mr. Robot (USA) - Summer
The Man In The High Castle (Amazon) - Fall?
The OA (Netflix)
Orphan Black (BBC America) - April
Salem (WGN America)
Van Helsing (Syfy)
Wayward Pines (Fox)
Westworld (HBO)
Z Nation (Syfy)
---
Am I missing anything? Are these posts helpful? Let me know in the comments!