When Amazon first announced this set, which includes a replica of Magneto's helmet, I put it on my wish list, but didn't buy it right away because it was pretty expensive ($80-something iirc), and I had just enough self control to wait for a price drop. Which I eventually saw on Kinja Deals last week, now at $45.49. And then Discover made one of their 5% cashback categories for July-September "Amazon.com purchases" so I waited until July 1st and then ordered it. It would have been stupid not to, right?
So here's the picture as seen on Amazon, and then actual pictures of what I got, which mostly look the same, except they have better presentation.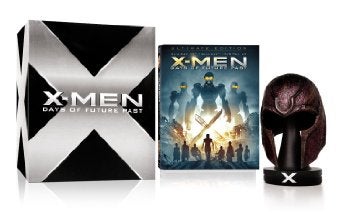 ---
And here is what I got in the mail, on a Sunday of all days.
This is the box with the helmet inside.
---
They packed it pretty securely.
Here's everything that came in the set.
The helmet is actually made of metal. Or a heavy plastic that feels like metal, so either way it feels pretty sturdy, as does the stand made for it.
And for more scale, here it is with a Magneto minifig.
If you've read/looked this far, I now have a giveaway. First come, first (only) serve, US only. The Blu-ray included an insert with a code to redeem a digital copy of the movie, but since I already have one, the redemption code is up for grabs.
The code is for US, so you either have to be in the country or be able to fake it. The digital copy will go to whoever asks first in the comments, and then I can e-mail you the code. I'd prefer to give this to someone who hasn't had a chance to see the movie yet, but the chances of such a person being a regular on the O-Deck is unlikely, so at least someone who doesn't already own a copy (or the license to stream a copy). If you're planning to buy the Rogue Cut on Blu-ray or DVD next week, the theatrical version is supposed to be one of the Extras so you won't really need this.
As far as how to use/view the redemption, the options are:
UltraViolet - you can redeem it through Vudu or Flixster, and it will be shared to any other service linked to the same UVU account.
Google Play - If you select this option it will only be on Google Play (unlike Disney Movies Anywhere, there's no option to link with UltraViolet). Make sure you don't already have it on your account because once you select Google, there's no take backs. If you already own the movie, you'll get a message telling you as much and then the code is no longer usable.
iTunes - If you select this option, it will only be on iTunes. But unlike the others, if you get it on iTunes it will come with iTunes Extras, which will mirror the extras found on the Blu-ray.
So if anyone wants the digital copy, let me know.
Update: the digital copy code has been claimed.
As a consolation to anyone else who was interested, here's a picture of the Pacific Rim Blu-ray set I also bought from Amazon (and tried out the same day shipping with, which worked pretty well). I just ordered this last week but I don't see it anymore when I did a search.