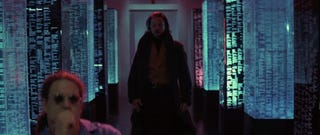 Whew! For a second I wasn't sure if today was gonna be a hectic day with news of any kind or whether I was gonna be lazy and not do a post today or what. You all lucked out! I am here and news I have to share!
Before I get going though, everyone should watch Hackers. Love that damn movie, even if it is so ridiculous with computers and how it portrays hacking and all that. Still, that movie is the best and I won't hear a word against it.
Moto G Google Play Edition is no longer available
This is the latest device to no longer be available for purchase in the Play Store. Not sure what's going on with any of this to be honest. Are they sold out? Are Google Play Edition devices now a thing of the past? [I can't find the appropriate "fuck if I know, man" GIF or clip from Hackers to put here, so just pretend I did and nod accordingly.]
Definitely not a bad device when it came out. I picked one up for a friend. It has become her default phone again, since she currently hates her Moto G LTE (which I got her when it came out) because "it updated Android and deleted all my music". (On a related note, she aims her hate at Google for that, despite the update coming from Motorola. So she's really on a roll with her nonsense. I mention this because we help each other out a lot and I said she needs to setup Google Wallet so we can shoot each other cash back and forth and she flat out stated, "I hate Google right now." And upon inquiring as to her reason why is when I learned about the issue with the update.)
I really only have one reaction for anyone who claims an Android OS update deleted their music from their phone.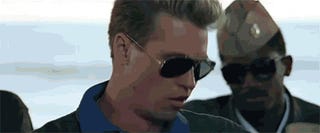 Yeah, I said it!
Seriously though, this is just for anyone who for whatever reason hasn't ever been through an update, UPDATES DO NOT REMOVE ANYTHING FROM YOUR PHONE. Trust me on this. In fact, I shouldn't have to say that. I know you all trust me on this.
Not quite moving on yet, several GPE (Google Play Edition) devices have hit third party retailers and sites after they disappeared from the Play Store. So it is highly likely this one will too.
For what it's worth the device is very nice for the price. It's also already had its Lollipop update roll out. So if you're looking to get in on some of that Lollipop goodness at cost then this is the perfect device to do so with. Keeping in mind it is a GSM device. Translation: It needs a SIM card to use. Sprint and Verizon customers are out of luck on that front for the most part (although both do have devices that use SIM cards on their network and if you pester them enough you can certainly get a SIM card from either carrier, although hell freezing over is far more likely to occur).
Wireless charging about to get better
The two separate organizations with two completely different standards for wireless charging are going to merge this year.
Of course that's ignoring the fact that QI, which is probably the better known and more commonly found standard, isn't joining in on this. Nonetheless, going from three standards to two is certainly better for consumers. Even if most people don't use wireless charging.
On a related note, I can't find the link right now but supposedly there's a new wireless charging method or device in the works and it's going to allow for faster charge times. For those unaware, wireless charging is neat and all but it certainly takes awhile to charge a device. (All of which is irrelevant to me as I've got a Moto X 2014 and it takes advantage of Qualcomm's Quick Charge 2.0. Motorola's Turbo Charger kicks ass! And if you don't have a Quick Charge 2.0 compatible device then definitely look into one whenever you decide to get your next upgrade. It's absolutely phenomenal and useful.)
XDA-Developers has a new look!
The site has been acting up over the past two days and then out of nowhere it loaded up for me awhile ago and goddamn does it look good. Definitely an improvement on its old look.
For those who don't know, XDA Developers is where myself and a few others (you all know who you are) go to basically get into everything tinkering related to Android). There is really no greater repository for everything in that regard.
The community is also great, although you are expected to put in some effort on your own to learn how to do this or that.
Monument Valley and misunderstood tweets
So recently Monument Valley's developers, ustwogames, tweeted something that has been making waves, as such items as have come before it, are want to do and I think it sucks because a lot of people see it and don't think about anything beyond the numbers and those tend to be pretty bad to make judgments on without knowing more.
Looking at those figures you come away with the sense that piracy is rampant on Android.
But let's think about a few things, shall we?
First and foremost is the fact that a lot of people have no way to pay for apps of any kind whatsoever, Google doesn't accept payments in a shockingly high number of countries. India being the biggest one, where Android is very widely used and where a push is at long last being made by Google to get Android devices into the hands of people there and without breaking their wallets. Android One being how they're going about that, as those devices can be had for something like $100 or so dollars and they definitely aren't bad devices.
Then there's the fact that the Play Store is outright blocked entirely in one country with a significant number of Android users, China.
Those are the big two that I think of when I see figures like that, insofar as what data is being overlooked potentially or not reported along with those figures.
Then you have people who paid for the game but have a number of Android devices tied to their Gmail account, that drives up the number of installs but counts as only one paid copy. There's no way of knowing how many device installs are tied to that one paid purchase. I myself own and use numerous Android devices and I tend to put my purchases on all of them. I also bought Monument Valley the moment it hit the Play Store, I just need the expansion pack now.
Without going to into things, figures and statements like the one tweeted should never be accepted blindly and opinions formed based solely on what was shared. There's a great deal more that isn't shared and can't be easily quantified and it just leads to assumptions that have no bearing of truth.
Does piracy take place on Android? Yes. Of course it also takes place on iOS and Windows Phone and basically anywhere software and apps of any kind can be installed.
On a very related and great note, recode did an interview with one of the developers and a lot of this was touched upon a bit more in depth. I highly recommend you give it a read for yourselves.
I mention all this because it bothers me to see comments that Android is filled with piracy and Android users don't want to pay for anything. That's bullshit.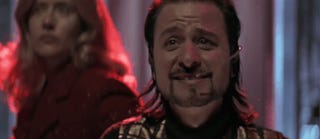 It also bothers me because bad reporting spreads fast and Android related piracy is but one issue that gets reported quickly without double checking the facts or statements being made. Android is filled with malware is another similar topic that gets reported that way and also quickly makes my blood boil. The GIF you see to the left of this is how I feel towards people who tend to write those clickbait stories about Android piracy and malware.
All that said, if you haven't played Monument Valley be sure to give it a try. It's worth the somewhat high price just for the look and music alone. As far as game play goes it isn't much, you can knock out the game in half an hour if you don't take a break. The expansion pack, available as an in-game purchase is $1.99 and adds a few more levels and is also well worth buying I've been told.
Speaking of reporting, I present the story behind Amazon's Fire Phone
This really has to be read in full and I won't spoil it at all for you, check it out.
The Fire Phone was Amazon's attempt at getting a smartphone out into people's hands. It was a $170 million spectacular failure.
There's really nothing more to say about the device, it was basically something to laugh at upon debut. It was priced at the same level as flagship devices from the big OEMs and the only thing it had going for it was basically the year of Prime included for the price. You'd be better off having paid for that separately on its own and not buying the phone period.
Speaking of, it's currently on sale. $189 off contract. (Which it should be noted is ten dollars cheap than when it debuted, keeping in mind it was $199 on contract.)
If the phone had an unlockable bootloader I'd say it was worth the price. As is though I have to say "it's a definite pass".

Google Search has become Google App (on Android) and with it you get Now Cards
What's a Wednesday Android Update post without at least one Google app update? Not a Wednesday Android Update post is what!
Google Search has become Google App, which you can download here, and with it have come some additional changes which you can see below upon first launching the app.
Beyond that there's nothing else new to report on in the Google app updates world. Update the app though, it's never bad to be up to date. Also Google Now is awesome! If you haven't opted in to use it you're seriously missing out.
CES related news: Sony TVs and Android Auto
So Sony's Bravia line this year is going to be all Android TV. Literally. Android TV will be built into each and every single TV (14 total) in the line that's set to be released this year.
I'm in the market for a new TV myself, so I'll definitely keep an eye on this as it develops throughout the year and report back on it to you cool cats.
For some interesting stuff, be sure to give these videos a watch.
Android Auto is definitely coming this year as well.
Pioneer, Kenwood and Parrot have all shown off devices at CES that will run it. With only Pioneer sharing pricing: $700 for their low end in dash device and $1,400 for the top of the line (which happens to be the only one with a capacitive screen and not the gross resistive one shared by their other models).
That would be the top of the line Pioneer model you see there.
And that is the offering from Kenwood.
That's all I got for today.
If any additional Google apps are updated or really great news or stuff pops up during the day that can't wait for tomorrow I'll update the post accordingly.
On that note, I'm punching out for the day already (yay reduced hours!) and am gonna go home and watch some new movies I got while I work on a Macbook that needs to be wiped and have OSX installed from scratch. Have I mentioned I hate working on anything Apple? If not, consider that officially as having been put on the record. I hate working on anything Apple.