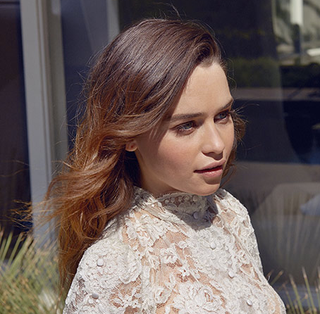 Has the filming in Croatia wraped-up? Emilia Clarke enjoys being home for a little while, no dragons in sight. She talks about filming her new movie, Dom Hemingway, where she'll play Jude Law's daughter. She reveals how her own father tried to prepare her for the acting life: "He told me: 'There's just one line you need to learn: Do you want fries with that?' He was trying his damndest to be realistic, show me that it wasn't Disney."
Image: still from the trailer for Dom Hemingway.
Now 26, Emilia, like her alter-ego, has come a long ways from the shy girl we first met braving bath waters far too hot for ordinary folks. Like the Khaleesi, Emilia had to learn new skills:
Iain Glen, who plays Ser Jorah – Khaleesi's chief adviser – remembers Clarke's first day on set well. They were shooting a scene on horseback in front of 300 extras when Clarke lost control of her horse: "It went off with her into the high reeds and I think it slightly freaked her out!"

"You ask someone: 'Can you ride?' and as an actor you're trained to say yes," smiles Clarke. "But it's one thing doing some riding on a Welsh holiday with your family… Luckily Iain managed to calm me and the horse down at the same time."
Earlier this year, Emilia played Holly Golightly in Sean Mathias's Broadway production of Breakfast at Tiffany's. Bringing her stuff back reveals hidden fears:
"I had an enormous cockroach I named Bob who lived with me in New York and I'm really afraid I've packed him," she laughs. "I'm petrified I'm going to open up a crate and there's going to be Bob's babies everywhere." The Mother of Dragons, scared of a few winged insects? Absolutely bonkers.
Emilia Clarke interview, and photo gallery, The Guardian, Oct. 27, 2013
Filming S4 in Croatia photos here, from Sep.27, 2013 and from Oct.1.