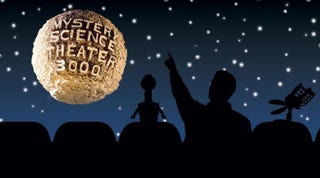 Jonah Ray in the L.A. Times:

Even when I started living on my own, having the "MST3K" tapes on, it made it feel like I was less alone. You could have it on in the background and come into a conversation and leave the conversation. That's what was so great about it.
Whether I've lived by myself or with other people, I've always had TV shows running in the background — usually as white noise, but also, as Ray puts it, as a conversation I could go in and out of, depending on my mood and focus. When I was a teenager, it was tapes of Letterman and old Saturday Night Live episodes; later, in college, it was The Simpsons and MST3K. (By my senior year, most of my close friends had graduated or dropped out and I kept the TV on constantly for company.) Lately I've been watching a lot of MST3K on Pluto.tv — a free internet service that has a lot of "channels" featuring news programs, old movies, Dick Cavett episodes, and Gerry and Sylvia Anderson shows from the '60s. But mostly I watch it for Joel (or Mike) and the 'bots. There's something about a dedicated 24-hr. MST3K channel that really does feel like living in the not-too-distant future. (In fact, I'm watching the end of the Turkey Day Marathon on Pluto right this moment.)
So what's your background/"conversational" TV?