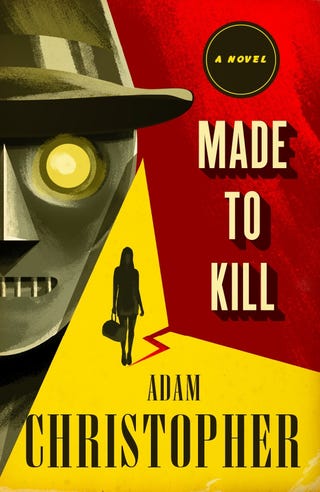 About four or five years ago, there was the rumblings that we had seen the birth of a new genre, New Pulp. With e-publishing, some thought that New Pulp was going to mimic the explosion of the original pulps.
But lately, I haven't heard much about New Pulp. Everything still seems to be about Steampunk, New Weird and Space Opera revival. Not that I'm complaining. It's just that I'd welcome me some costumed crime fighters and supernatural P.I.s
While it's fun to see artists use the Art Deco ascetic to do some retro-art of franchise heroes from Marvel or DC, I don't really see anyone getting excited for what may be a New Pulp book.
And Adam Christopher's latest book, Made to Kill, coming out later this year is labeled an SF noir thriller for his Raymond Chandler robot detective novel. It's on my reading list. But The Age Atomic and Empire State had made him named as one of the top guys in the New Pulp movement.
So is New Pulp quietly building as a budding genre? Dying as a marketing label? Being swept under the rug because of its troubling historical roots?

Side Note: And with all the hullabaloo about the Hugos, you'd think that New Pulp might be something certain corners would be holding up as their go-to example.