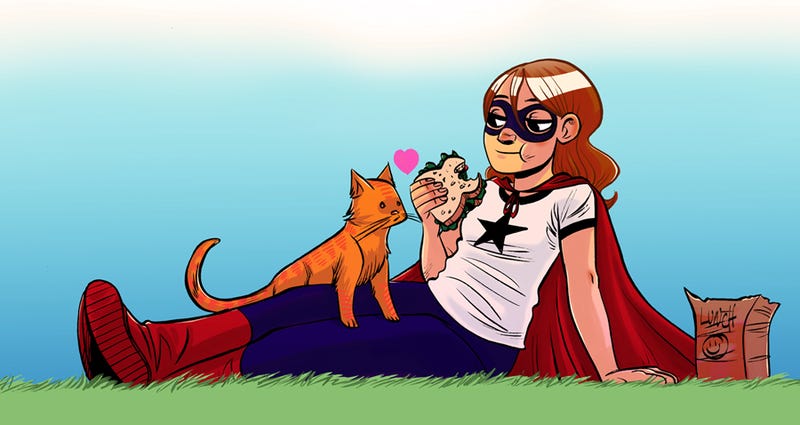 And what a great bunch of nominations! Highlighted some of my favorites in bold.
Best Writer

Kelly Sue DeConnick, Pretty Deadly (Image); Captain Marvel (Marvel)
Matt Fraction, Sex Criminals (Image); Hawkeye, Fantastic Four, FF (Marvel)
Jonathan Hickman, East of West, The Manhattan Projects (Image); Avengers, Infinity (Marvel)
Scott Snyder, Batman (DC); American Vampire, The Wake (DC/Vertigo)
Eric Stephenson, Nowhere Men (Image)
Brian K. Vaughan, Saga (Image)

Best Writer/Artist

Isabel Greenberg, The Encyclopedia of Early Earth (Little, Brown)
Jaime Hernandez, Love and Rockets New Stories #6 (Fantagraphics)
Terry Moore, Rachel Rising (Abstract Studio)
Luke Pearson, Hilda and the Bird Parade (Nobrow)
Matt Phelan, Bluffton: My Summers with Buster (Candlewick)
Judith Vanistendael, When David Lost His Voice (SelfMadeHero)

Best Cover Artist

David Aja, Hawkeye (Marvel)
Mike Del Mundo, X-Men Legacy (Marvel)
Sean Murphy/Jordie Belaire, The Wake (DC/Vertigo)
Emma Ríos, Pretty Deadly (Image)
Chris Samnee, Daredevil (Marvel)
Fiona Staples, Saga (Image)

Best New Series

High Crimes, by Christopher Sebela and Ibrahim Moustafa (Monkeybrain)
Lazarus, by Greg Rucka and Michael Lark (Image)
Rat Queens, by Kurtis J. Wiebe and Roc Upchurch (Image/Shadowline)
Sex Criminals, by Matt Fraction and Chip Zdarsky (Image)
Watson and Holmes, by Karl Bollers, Rick Leonardi, Paul Mendoza et al. (New Paradigm Studios)

Best Single Issue (or One-Shot)

Demeter, by Becky Cloonan (self-published)
Hawkeye #11: "Pizza Is My Business," by Matt Fraction and David Aja (Marvel)
Love and Rockets: New Stories #6, by Gilbert Hernandez and Jaime Hernandez (Fantagraphics)
Viewotron #2, by Sam Sharpe (self-published)
Watson and Holmes #6, by Brandon Easton, and N. Steven Harris (New Paradigm Studios)

Best Publication for Kids (ages 8-12)

The Adventures of Superhero Girl, by Faith Erin Hicks (Dark Horse)
Hilda and the Bird Parade, by Luke Pearson (Nobrow)
Jane, the Fox, and Me, by Fanny Britt and Isabelle Arsenault (Groundwood)
The Lost Boy, by Greg Ruth (Graphix/Scholastic)
Mouse Guard: Legends of the Guard, vol. 2, edited by David Petersen, Paul Morrissey, and Rebecca Taylor (Archaia/BOOM!)
Star Wars: Jedi Academy, by Jeffrey Brown (Scholastic)
Read the rest of the list here.