Yeah, sometimes its best not to look to much into some things.
I mean, we all know the macabre story of Cubone, who wears his MOTHERS SKULL AS A HELMET! And then when it evolves to Marowak IT HAS FUSED TO ITS HEAD AND CAN NEVER BE TAKEN OFF AGAIN!
Seriously, how f****ed up is that?
But there are plenty of other disturbing and horrific things in the Pokemon universe when you think about it (and actually read the Pokedex entries, not skip over them like I do).
Like, how about Yamask?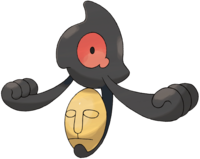 ---
What you see here is a Pokemon who USED TO BE HUMAN. That mask he's holding is in the shape of its human face. And they even remember being human. They will look down at their masks and cry over it.
And then it just gets worse when it evolves to Cofagrigus.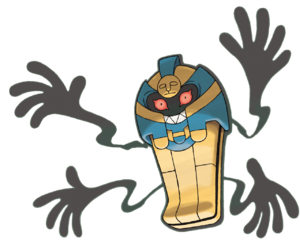 ---
Apparently it has become so jealous of humanity that whenever a human gets close to it, it will swallow them whole and trap them inside of it forever.
Of course, let's not forget the original Ghost Pokemon, Gastly, Haunter, and Gengar. Gastly can envelope humans and Pokemon alike in its gases, grievously poisoning them until death. Just one touch from a Haunter will cause you to shake uncontrollably until death. And Gengar will hide in your shadow, waiting for the opportune time to attack and kill you outright, usually laughing and taunting you before doing so.
Oh yeah, they are also the spirits of dead Pokemon and humans. When those souls aren't becomming Yamasks, or being used as fuel, or one of the other 10 million things that can happen to human souls in this world.
And then there's Drifloon, who tries to grab at children to steal them away.

---
Now, thankfully Drifloon only ways about 3 pounds, being a mostly gaseous Pokemon, so no fear of anyone being taken away. Yet.
That's where it's evolution, Drifblim, comes in.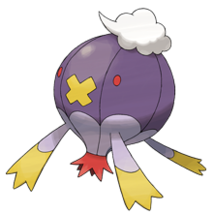 ---
Yeah, looks a whole lot stronger, doesn't he. This sucker here has no problem carrying off small children.
And no list of screwed up things in Pokemon is complete without Duskull and its evolution Dusclops. Duskull loves nothing more to scare small children so he can listen to their fearful cries. And Dusclops can absorb anything into its body. I believe you can make the connection yourself.
This right here is Banette, the Marionette Pokemon. He's basically an evil version of Pinocchio who came to life by pure hatred for the human child who threw him away. He actively searches for that child. To what ends, well, I'll leave that up to your imagination.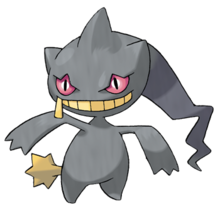 ---
The Gothita line is also pretty messed up. Gothita is pretty normal, but usually has a far off look in its eye, like it's looking at something that only it can see. Then it evolves into Gothorita, who is so lonely in the wild it uses its hypnotic powers to control human children at night to pretend to be its friends. And then after all that there is Gothitelle, who's psychic powers are so strong it can see the future. And the first thing they ever learn from their new powers is exactly how long their trainers and those around them have left to live.
Jellicent may look harmless, but they are notorious for causing the deaths of any sailors stupid or unlucky enough to sail into their territory. They sink the ship, feed on the humans life energy and then throw them down into Davy Jones Locker.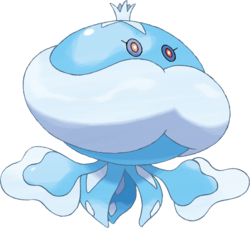 ---

The purple flames on Litwick, Lampent, and Chandelure are made by capturing and burning the souls of the recently departed. They will arrive near a person they sense are near death to suck up their soul.
Parasect has completely been taken over by the mushroom on its back. Parasect isn't the insect, Parasect is the mushroom using the insects corpse to move around.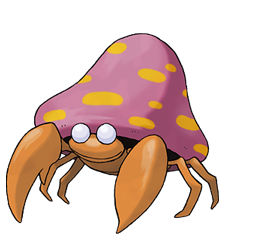 ---
People in the Pokemon universe eat Pokemon.
Yeah, no getting around it. Here it is, straight from the Pokedex's mouth: "Red- and blue-striped Basculin are very violent and always fighting. They are also remarkably tasty"
Now I don't know about you guys, but my gut tells me they probably don't stop at the Basculin. Heck, we've already seen they eat Slowpoke tails back in Gold and Silver, who's to say they don't eat the whole thing once in a while?
There's probably a million things I missed, but I've depressed myself enough and think I've gotten my point across.
The Pokemon world is a horrible, horrible place to live in.
So anyway, I've scarred you people enough, here's creepy Sylveon.